December 13, 2013
NEWS
Former NFL Player Mark Pattison Climbed Mount Kilimanjaro and Wants More!
Mark Pattison was drafted in 1985 by the Los Angeles Raiders and played three seasons in the NFL. Mark played for the LA Rams and the New Orleans Saints as well. We all know how punishing football can be on the body, especially for a wide receiver, but at 51 years old Mark has climbed many mountains=E2=80=A6 literally. The following are excerpts of an interview I did with Mark before he climbed Mount Kilimanjaro.
Interviewer: You played three years in the NFL, you beat up your body of course, but you're climbing these mountains, you are a businessman, you're doing great things and all for charity. Tell us more about how you started climbing mountains once you stopped playing football.
Mark: You know, I mean it's kind of an evolution of a bunch of things, I think. You got, one of the core factors is being fortunate to never have worked for another company in terms of being an employee. I've always run my own businesses and while that's been great on many different levels, it also comes with some sacrifice in terms of, you know I'm married - same gal I've been married to for a long time and, you know, with my kids, so you know the dedication of trying to run a business and that family commitment, you know, you only have so many hours in the day and you have to keep going. So ever since I was a kid I've been the gym rat that's always been out there, so even though I've been building my businesses and being dedicated to my family, I've also really never taken a day off from the standpoint of gotten out of the rhythm and the sync of exercise, fitness, health, and all those things. As I'm getting older, I have more of a drive to make sure that I maintain the health and fitness and those different types of things. So I guess moving fast forward when I was living in Seattle, which I was for the last 12 years until three years ago - moving down to Santa Monica - there was a mountain in particular that I used to go up at least once a week for a couple of years called Tiger Mountain. It's not a huge mountain - is probably 3 miles open 3 miles down but it was starting a consistency. After that I then climbed Mount Rainier and Mount Saint Helens and a number of other peaks in the Northwest. I was also able to climb with some guys who have climbed the Seven Summits. Ed Viesturs being one, who is probably the most famous mountaineer - American mountaineer - certainly in the US, if not the world. I have climbed with other guys who have done that as well, they are all great guys, and I just found that, being outdoors and in nature and going up mountains was great. Fast forwarding this whole thing, now I'm in a place in my businesses, where I can take a step back a little bit, and my kids are little older, they don't need as much responsibility, and so the first mountain - first major mountain - that I've got on my bucket list is Mount Kilimanjaro. A great thing about all of this is that I've been able to tie this to a charity. My goal originally was to raise $10,000 at the start, and with 2 1/2 weeks to go I've already raised $6200. Some of that money has come from other former players, Jim Mora was not a player, but definitely a coach. Morten Anderson, Hugh Millen, and some other guys. So it's been great to see that thermometer go up and kind of match my enthusiasm to go down to Africa in June and climb this mountain.
Interviewer: That is outstanding, no you said you climbed Mount Saint Helens, was that before the eruption?
Mark: Well that's a great question. I actually climbed the mountain before blew its top and I think - before blew its top - it was around 12,000 or 13,000 feet and now it's down to around 9,000, so it literally blew its top. I was a senior in high school at the time when it blew and Ash of course went and all directions down to Portland Oregon and certainly have some residual effects on Seattle. My dad climbed all the major peaks in the Northwest, and there is quite a few of them, and so this is something we did together when I was in about eighth grade. He took me up the mountain and it was a great experience.
Interviewer: Ah, so it runs in the family!
Mark: Well yeah, unfortunately my dad passed away about a year ago, but in terms of great memories with him growing up, he certainly exposed me to the outdoors and climbing mountains, and those things. And unlike growing up in the Midwest or other less mountainous regions, living in the Northwest, Washington, Oregon, Idaho we are blessed to have many large mountains. There are some very high peaks, the highest is actually Mount Rainier, which I did climb and I've actually been up that mountain a number of times. That's 14,550 feet.
So I'm really curious to see how I do, in terms of handling the altitude at 19,000 feet versus 14,000 feet and that becomes a big factor when you start climbing the taller mountains.
Interviewer: How do you prep for something like that? It's not as though there is a simulator for that kind of altitude, is there?
Mark: I don't think there is. There are a variety of steps you can take to prepare. The most important one is it helps to be in great condition, which I am. I'm actually in a 55 mile mountain bike race this weekend, on Catalina Island. Major mountain climbing you have to learn that you don't just go up or one day, you have to go up and then come down. In the case of Mount Kilimanjaro the climb is over 18 days of which you're only going to go up so far everyday to allow your body to acclimate to the altitude so you don't get seriously sick. Actually, more people have died on Kilimanjaro then on Everest. This is also because there have been more people try to climb Kilimanjaro then Everest as well. There are other factors involved as well like pressure breathing and having your chemistry aligned. I might get up to 18,000 feet and, for whatever reason, my chemistry isn't aligned with it being at a high altitude and there isn't much I can do about that. But we'll see how I do, and that will really be a platform for me to get going on some of the other mountains that I want to climb.
Interviewer: That's outstanding. Now let's shift a little bit of the discussion to the underlying reason why you're doing it: the charitable work for the kids in inner-city Los Angeles. Tell us more about the charity.
Mark: Westcoast Sports Associates (WSA) www.westcoastsports.org is a great organization and was founded about 10 years ago by some guys I know that live down in Manhattan Beach. The whole purpose of this was to go into the different Parks and Recreation departments in the lower income areas around LA and help the kids. A Parks and Recreation program puts on a basketball league and it charges $80 per participant to join which pays for the uniforms and the referees and the gym. What we are doing is we're raising money through a variety of different charitable acts to then help subsidize that amount. So rather than the kids having to pay $80 maybe the kid is only responsible for $20. So, we designated multiple Parks and Recreation departments throughout LA that we are benefiting at the end of the year. There is always a very large fundraiser / auction type thing. The guy that is very instrumental in the sporting world, who has really put a lot of time and effort into this, is Roy Firestone. So in the auction at the end-of-the-year we have always featured one guy, Andre Agassi being one in the past, as well as a variety of other guys like Joe Montana. It draws a lot of people and that's how we raise a significant amount of this money. I joined the organization about six months ago and it's something that I'm really starting to sink my teeth into. Step one is trying to help these different organizations from a management standpoint, help organize them and then next up is working with the kids individually. So, I actually have been assigned to a particular area down by the LA Coliseum, where I know you used to play as well. So that's where I will be helping out. I am so excited about it and once again at the end of the day it's just a great organization, and a bunch of great guys trying to help bring some awareness and some fun so that the kids can possibly have some of the same opportunities I had growing up.
Video: Mark Pattison's quest to climb Mt Kilimanjaro sponsored by GoPro
On June 8, 2013 Mark attacked Mount Kilimanjaro the way he has attacked life after football, with a ferocious desire, a strong heart, and a prepared mind and body. His former teammate Rusty Hilger chronicled it on his blog:
Mark Pattison: The Climb
To reach the summit of Kilimanjaro is a 55 mile round trip journey which includes up and down daily maneuvers to increase your acclimatization time and maximize your chances of reaching the summit. To avoid altitude sickness, this up and down routine from the base camp at 14,600 feet takes five nights or more to reach the summit.
According to the Official website of the Tanzania Parks, the price for a Porter cost $10 per day, Cooks $15 per day, and Guides $20 per day. A small price to pay considering the magnitude of what they do. The porters setup, teardown, and haul all the gear, tents, and food necessary for the climb.
Pattison's concerns for the climb were the thin air dangers. Mark understood that at the higher altitudes you will almost certainly suffer headaches and may feel sick/vomit. But this is normal on a mountain of just under 20,000 ft. Mark Pattison opted not to use the controversial Diamox, but instead he opted for Advil. Console yourself with the thought that most of the others with you feel the same way and that it can't go on forever.
Pattison did not sleep well. Although he prepared for the freezing temperatures, even his four layers of protective clothing and sleeping bag wasn't enough. He was frozen nightly at the higher altitudes. Since sleep is of vital importance for muscle recovery, maintaining energy, and overall well-being, the poor sleeping conditions - and lack of sleep - made the climb even more difficult.
Altitude sickness was a major concern. The headaches, sometimes mild and sometimes more than mild, continued. Pattison had emptied a full bottle - his only bottle - of Advil before making it to the top, and there were no corner-stores to get a refill.
Pattison described the food as nourishment only, since the flavor and taste was not worth a second helping. Pattison said, "At base camp, a drink goes down OK, but the thought of food sounds terrible." He continued, "Your head throbs, you're cold, wet and miserable so you collapse into the sleeping bag."
Carbs to sustain energy were mandatory. Pattison's training stamina was not in question... but the lack of energy sustained through food, caused immediate problems during the climb. Pattison recalls one time - well above 15,000 feet - when he ran out of gas and almost passed out. "I felt like I was punch-drunk and had to stop and rest... I couldn't take another step" said Pattison.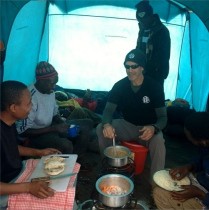 What about water? Pattison said, "The water was a daily routine, It came from a stream which was a 2 1/2 mile trek down the mountain, then it had to be hauled, filtered, and sterilized for cooking and drinking."
Despite the 55 mile hike, the 3 a.m. starts, the horrible food, the headaches, the muscles aches, the swollen feet and ankles, the freezing nights, and 7 days on the mountain... Pattison has reached the summit and conquered Mount Kilimanjaro.
Oh yes, don't forget the 26 hour sleepless flight home to Santa Monica, Ca.
Congratulations to Mark on being an inspiration us all. The next time in life you hit a wall or "Mountain" you think you can't climb...
Nolan Harrison III
Senior Director, Former Players
NFLPA
Railroad Career Fits Well for Former Player Ken Blackman
by Elizabeth Cohen, NFLPA Communications
Former professional football players can find transitioning to the next phase of their life to be challenging once their playing career ends. Ken Blackman, former guard for the Cincinnati Bengals in the late 1990s, spent about a year and a half recuperating from his career-ending injury, and trying to find a job that he would be passionate about.
"Even though I did graduate and have a degree, I had to ask myself where I was going to go. What do you do to find a job? Where can you go to slip back into society? It was a tough transition period," said Blackman.
He wanted to make his next move. "I took the time to look and see what I wanted to do. I wanted to see what that second career could be," said Blackman, who is now working for Union Pacific Railroad in Spring, TX.
After the attack on the World Trade Center in September 2011, Blackman looked into becoming a part of the U.S. Marshals Service. "I wanted to use my size and body and I thought I would be a good fit," said Blackman. At the time, the program wasn't accepting civilian applications. He waited some more time and before he knew it the program wasn't even accepting non-military applications.
A friend of Blackman's mentioned working for the railroad because the work was within his skill set and had great pay and benefits. In 2005, he began working as a train conductor. Now, he is the senior manager of terminal operations using the skills he learned in the NFL to his advantage.
"The position that I have now as a senior official is a lot like the position that I had with the NFL. There is repetition and mental preparation," said Blackman. "You come in, run your reports and monitor your railroads. We see what cars we have to switch. What jobs we need to manage. The biggest difference he sees is that he doesn't physically use his body as much as he did in his playing days."
Outside of his career, being more involved with the NFLPA has given Blackman more of an opportunity to engage with fellow former players about life after the NFL. "I want to help other people who are in my same situation every year. They were successful, they played in the NFL but now they can't do that anymore. When that is no longer an option, where do you go? What do you do? I want to be that person that they call. And I want my company to be that company that employs them," said Blackman.
His role at Union Pacific has opened his eyes to see that for the former players who are looking, his company is an excellent place to start and grow for a second career. "The company is often compared to a mall. If you are going to the mall there are so many different opportunities to buy something. It is the same thing here with our company because there are so many positions within the various departments including marketing, finance, law, IT/computers, trucking and our own short rail," said Blackman.
Additionally, networking with other former players has allowed Blackman to reminisce more about his playing days. One of his favorite memories occurred while playing in the city of Pittsburgh. "I had always been a Pittsburgh Steelers fan. The ice and snow blowing in cold weather is what I loved about playing there. It is what you sort of dream about growing up as a kid if you were a fan of football."
Please Contact:
Lydia White
llwhite@UP.com
402-544-1327
THE TRUST CORNER
Lifestyle
It's key that former players redefine their "normal." This begins with identifying and establishing changes in mindset, performance, recovery and nutrition that will lead to a healthy, post-career lifestyle.
Working with The Trust staff and using our partner's services, former players will have access to the tools they need to make the right decisions about their health and lifestyle.
Athletes' Performance
Athletes' Performance ("AP") administers a Lifestyle Strategies Program that consists of intensive consultations with former players regarding health and habits, nutrition assessments and education, physical therapy assessments and education, and performance sessions.
Athletes' Performance will also be organizing and managing annual and regional events for The Trust across the country. During such events, former players have the opportunity to relax and reconnect with their peers. Events may include education opportunities, health and wellness evaluations, and further opportunities for food, fellowship and networking.
UPCOMING EVENTS
2014 Former Players Convention
We are pleased to announce the location and dates for the 2014 Former Players Convention. The event will be held in Orlando, Florida at the Waldorf Astoria Orlando, and the dates are March 19-24. A brief agenda of the meeting is:
Wednesday, March 19 - Arrival
Thursday, March 20 - Joint Meeting Day With Active Players, Golf Tournament and Joint Dinner
Friday, March 21 - Ladies Breakfast/Activity, Community Service Day
Saturday, March 22 - Meeting Day #1
Sunday, March 23 - Meeting Day #2, Farewell Dinner
Monday, March 24 - Departure
The nightly room rate is $219 (plus taxes/resort fees) and the NFLPA will again be offering an 'early bird' incentive of a $250 hotel credit for the first 200 former player members who register (and stay at the hotel for the duration of the event), so please watch for the convention registration form in the mail soon!
NFLPA Former Players Golf Challenge
Phoenix, AZ
January 17-18, 2014
The Wigwam
NFLPA TIPS